The Black Student Union in the 1990s built a community, providing a safe and rich social space for Black students. Black Greek Life flourished on campus, engaging in community outreach. These efforts included programs to help marginalized students, raising awareness about homelessness, and other community service projects. Popular social events included the "Essence of Ebony" Ball held each February during Black History Month. The university began to host an annual "Diversity Week" in September, which featured guest speakers and other programming. In 1992, UNI hosted its first official annual Kwanzaa celebration, a holiday which would continue to be celebrated through the 2000s. The UNI Gospel Choir continued to flourish, even performing at the Grand Opening of the Maucker Union Extension in 1990 and traveling as far abroad as Charlotte, NC for workshops. These events added to the rich social and cultural milieu of Black life in the decade.
Speakers on campus highlighted the local history of African Americans in Waterloo during the 1960s. They also engaged in more global conversations by bringing speakers, including activist Prexy Nesbitt to campus to speak on the worldwide impact of Apartheid. Other speakers addressed the Chinese student protests that culminated in Tiananmen Square in 1989, even bringing activists like Chen Jun and Li Lu to campus. One topic that was highly protested on campus was police brutality, especially after the Rodney King Case and the murder of Latasha Harlins. Open Forums were popular and used as a safe spot to engage in community dialogue about the meaning of these cases.
The university made efforts to recruit marginalized students and make them feel more welcome on campus. One of these efforts was the Jump Start Program, which began in 1998. The Jump Start Program created additional freshman orientation programming for students of color, designed to create a sense of belonging and facilitate student success.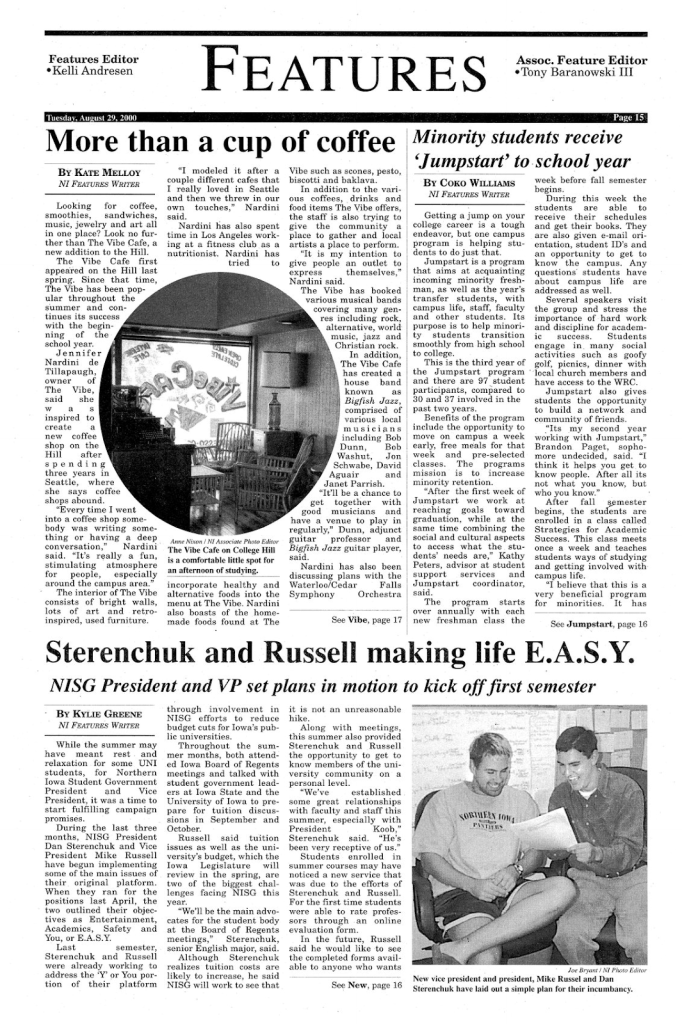 College Bound Established
UNI establishes College Bound which was a program to provide marginalized students with information about college and higher education.
Prexy Nesbitt On Campus
 History lecture series "Racial Tensions in Waterloo, Iowa: The 1960s" by UNI professors Dr. Charles Quirk and Kenneth Lyftogt

Lecture on History of Waterloo
 History lecture series "Racial Tensions in Waterloo, Iowa: The 1960s" by UNI professors Dr. Charles Quirk and Kenneth Lyftogt.
Rodney King Protests
April 28th University of Northern Iowa and University of Iowa students protest after Rodney King case and protests in Los Angeles.
Learning for Life/Guide Right Program
Kappa Alpha Psi and UNI Center for Urban Education sponsored the Learning for Life/Guide Right Program and worked with local Black 5th grade boys.
Open Forum on Race
 UNI held an open discussion to discuss race and gender issues in America after the OJ Simpson Trial, the Million Man March, and English being declared the official language.

Maucker Returns to Campus
Former UNI President Maucker returns to campus to talk about the creation of the Ethnic Minorities Cultural and Educational Center (EMCEC). Afterwards Black Student Union presidents Terry and Tony Stevens were a part of a panel to promote awareness on the history of marginalized students at UNI.

Phi Beta Sigma has their second "Sleep Out for the Homeless" to raise awareness and donations for homeless people.

UNI hosted open discussion on barriers to women's alliance building and the impact of racism.

September 16 they held a conversation with former Klansman CP Ellis and NAACP leader Ann Atwater, titled "Best of Enemies"
Inaugural Jump Start Orientation Program
 UNI announces new Jump Start orientation program for freshman marginalized students.